How to create a profitable post on social media
We live in the 21st century where social media is a big part in all of our everyday routines. That is why it is extremely important for businesses to pay attention to their appearance on social media. It is vital to post on a regular basis and provide your potential customers with important announcements such as discounts, new games, updates.
We have prepared a few recommendations on how to create a profitable post on social media.
Post must have: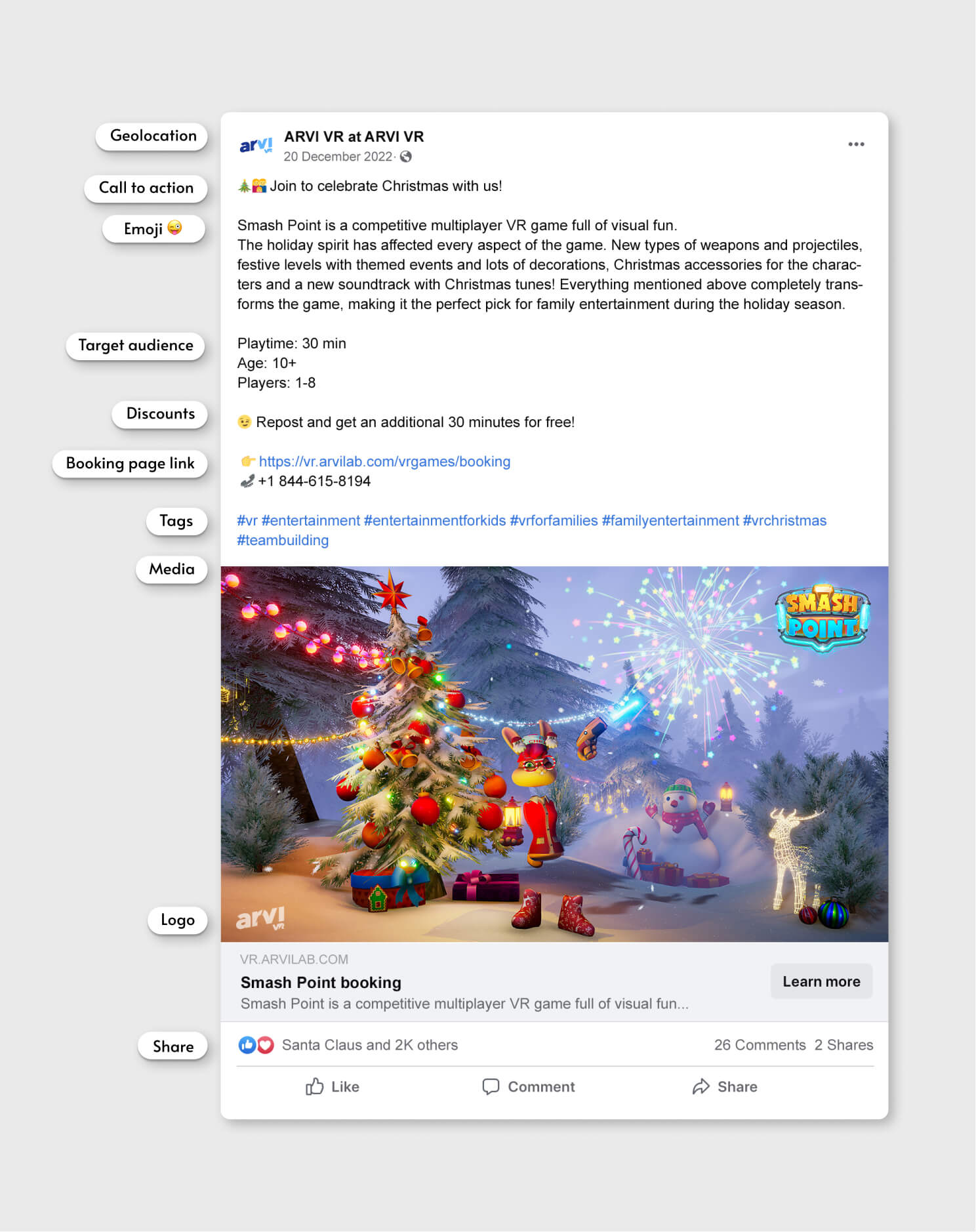 Geolocation
Geo-targeting allows you to target potential customers in a specific area based on country, region, or city.
Call to action
Always include an invitation to come and play at your venue. It should be short and sweet.
Some examples:
Come and try our new experience now!

Join us to celebrate the holiday (Christmas/Halloween..) with us!
One of the best entertainment experiences available!
Check out our range of experiences now!
Book your experience today!
Know your target audience
Invite customers based on their potential interests or themes, numbers of people.
For example:
Post about multiplayer experiences and mention that it is perfect for team building, to help draw big groups (and their colleagues) attention.
Post about Christmas and emphasize that it's the best option for family entertainment.
The article produced by us we hope will be useful with this!
Discounts (optional)
Post about discounts that you are offering. Everyone is looking for the best prices in the market.
Some examples:
Book experiences for 2 people and receive 1 ticket free.
20% off kids during term time.
10% off students at weekends.
Celebrate your birthday with us, 20% off.
Post about us on your social media and receive an additional 30 minutes, free.
Link to the booking page/number
It will be easier for potential clients to find your website and book an experience.
Tips:
Put the link inside the text of the post.
Make sure that your link leads directly to the booking page.
Tags
#escaperoom #vrescaperoom #vr #entertainment
Mention the city your location is based in:
#escaperoomlosangeles #vrescaperoombirmingham #vrbarcelona
Add the target group:
#entertainmentforkids #vrforfamilies #familyentertainment #vrescaperoomfriends
Include themes:
#vrchristmas #birthdayvr #escaperoomteambuilding
Emoji 😉
Make your posts fun - add emojis, but not too many, as it can distract customers' attention.
Media (picture, video, gif)
Include colorful art in your posts, which will catch the eye.
Some examples: short video (immerse in the game) banner; screenshot; seasonal promo.
Tips:
Use only high-quality media.
Do not post a set of pictures, it is better to make a few posts, than one with a bunch of images. This way, a potential customer can focus his/her attention on the specific item.
Choose the resolution depending on the social media you post (horizontal rectangle, vertical rectangle, square).
Add your logo to increase brand recognition.
You can find ARVI VR Promo materials with the link ("Game" - "Details" - "Promo"; in the "Web banners" promo section, with different resolutions of the banner (square, horizontal and vertical rectangles)).

---
How to attract more views, more likes and more shares
Run an advertisement.
Ask clients to share it on their page or with their friends for a reward (discount).
Share your post on local pages.
Share\create a post to the local entertainment groups.
How to find local entertainment groups
For example, if you are based in Wilmington city, you may search for FB Groups - Wilmington NC news, Wilmington NC events, life in Wilmington NC, Wilmington NC for free, where to go in Wilmington NC, etc. As soon as you join you will have the ability to share\create posts in this group.