ARVI presents Challenge Park!
This is a perfect entertaining experience, especially for those, who are new to VR.
Challenge Park offers a wide range of ways of getting fun. Step into the world of mini games, which offers a vivid design and immersive experience.
Play any of five suggested games: Basketball, Big Gun, Sea Combat, Shurikens Ninja, Dance Machine.
Challenge Park is perfect for the beginners, who want to discover the world of VR. In this game, you can shoot, explore, and dance for the prizes. Go solo or organize an entertaining competition with your friends.
5 in 1 Game

Shurikens Ninja
Aim at the target and throw shurikens at the dummy enemy. The difficulty will be adapted to your skills.

Sea Combat
Be a fearless hero, who destroys the enemy ships with torpedoes.

Basketball
Throw the balls into the static and moving baskets to earn points. The difficulty is adapted to your skills.

Big Gun
Shoot down airplanes and hot air balloons with a big gun as fast as possible.

Dance Machine
Have fun, enjoy the music, and dance to gain a victory.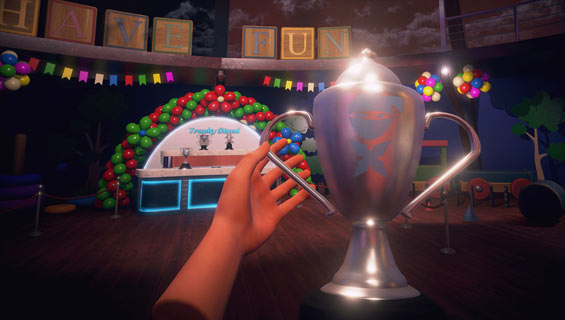 Main Challenge
At the end of each game, you'll receive interesting prizes. Also, there are trophies that you get for showing the best result. The main secret will be revealed only when you collect all the trophies.

Other Experiences
Challenge Park offers various toys and things you can interact with. Just look around and find what will be interesting for you.