Der Challenge Park bietet eine Vielzahl von Möglichkeiten, um Spaß zu haben. Tauchen Sie ein in die Welt der Minispiele, die ein lebendiges Design und ein beeindruckendes Erlebnis bieten.
Spielen Sie eines der fünf vorgeschlagenen Spiele: Basketball, Big Gun, Sea Combat, Shurikens Ninja, Dance Machine.
5 in 1 Game

Shurikens Ninja
Aim at the target and throw shurikens at the dummy enemy. The difficulty will be adapted to your skills.

Sea Combat
Be a fearless hero, who destroys the enemy ships with torpedoes.

Basketball
Throw the balls into the static and moving baskets to earn points. The difficulty is adapted to your skills.

Big Gun
Shoot down airplanes and hot air balloons with a big gun as fast as possible.

Dance Machine
Have fun, enjoy the music, and dance to gain a victory.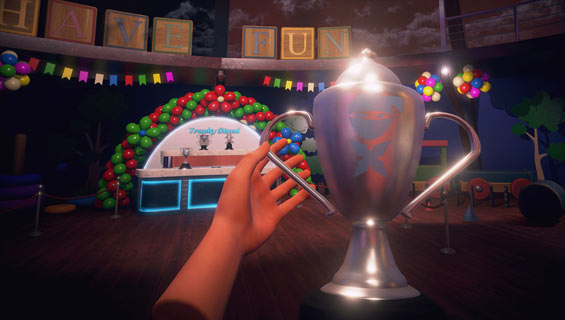 Main Challenge
At the end of each game, you'll receive interesting prizes. Also, there are trophies that you get for showing the best result. The main secret will be revealed only when you collect all the trophies.

Other Experiences
Challenge Park offers various toys and things you can interact with. Just look around and find what will be interesting for you.